Today we see the fifth angel pour out his bowl on the throne of the beast, so God's judgement is coming against the Antichrist. We see how truly powerless the forces of evil are when our great and mighty God's wrath is poured out.
10 The fifth angel poured out his bowl on the throne of the beast, and its kingdom was plunged into darkness. People gnawed their tongues in anguish 11 and cursed the God of heaven for their pain and sores. They did not repent of their deeds.
The whole domain of the beast is plunged into darkness, and people reacted poorly, to say the least. They have been so caught up in this false system that when it is taken away from them, they gnaw their tongues in anguish and curse the God of heaven for their pain and sores. Sadly, maybe even most importantly, they did not repent of their deeds. What will it take for people to turn to God!
Often times today we see darkness portrayed as a funny thing, as a trivial thing – it's just turning the lights off… – as something that we can poke fun at. Memes abound where people have been photographed looking slightly sad, and then this is overlaid…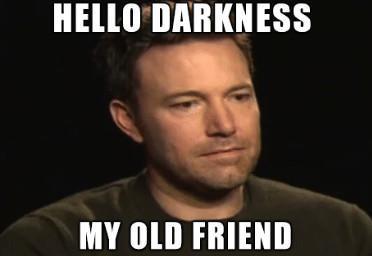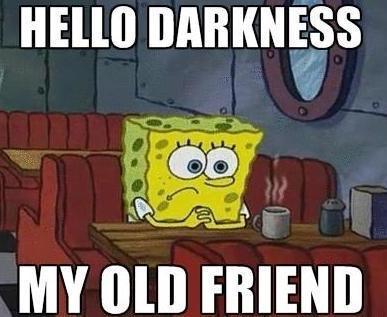 But, here we read that darkness is part of the judgement of God on the domain of the beast, and people react with vitriol and violence. Darkness is not something to be trifled with, not something to mess with, not something we should take lightly. See, darkness is the absence of light. Light is pure, light illuminates, light guides and directs. Jesus has called us out of darkness into His wonderful, world-changing light (1 Peter 2.9).
So, darkness is not our old friend, darkness is a preview of what hell will be like, what eternal separation from God is like; the total absence of light.
Jesus taught parabolically about hell and said
'And cast the worthless servant into the outer darkness. In that place there will be weeping and gnashing of teeth.' (Matthew 25.30).
But, we have the light of the world living in us, Jesus is the light of the world and He lives in us. He says that whoever follows Him will not walk in darkness but will have the light of life (John 8.12). Now we have this light, we cannot hide it, we must let it shine (Matthew 5.14).
So, how are you going to shine His light today?