Have you ever been in church, perhaps at a time of prayer, and someone has said 'Lord, we know you are here with us now because, as your Word says, Where two or three are gathered, there I am with them…'? 
Maybe you've seen it used like this: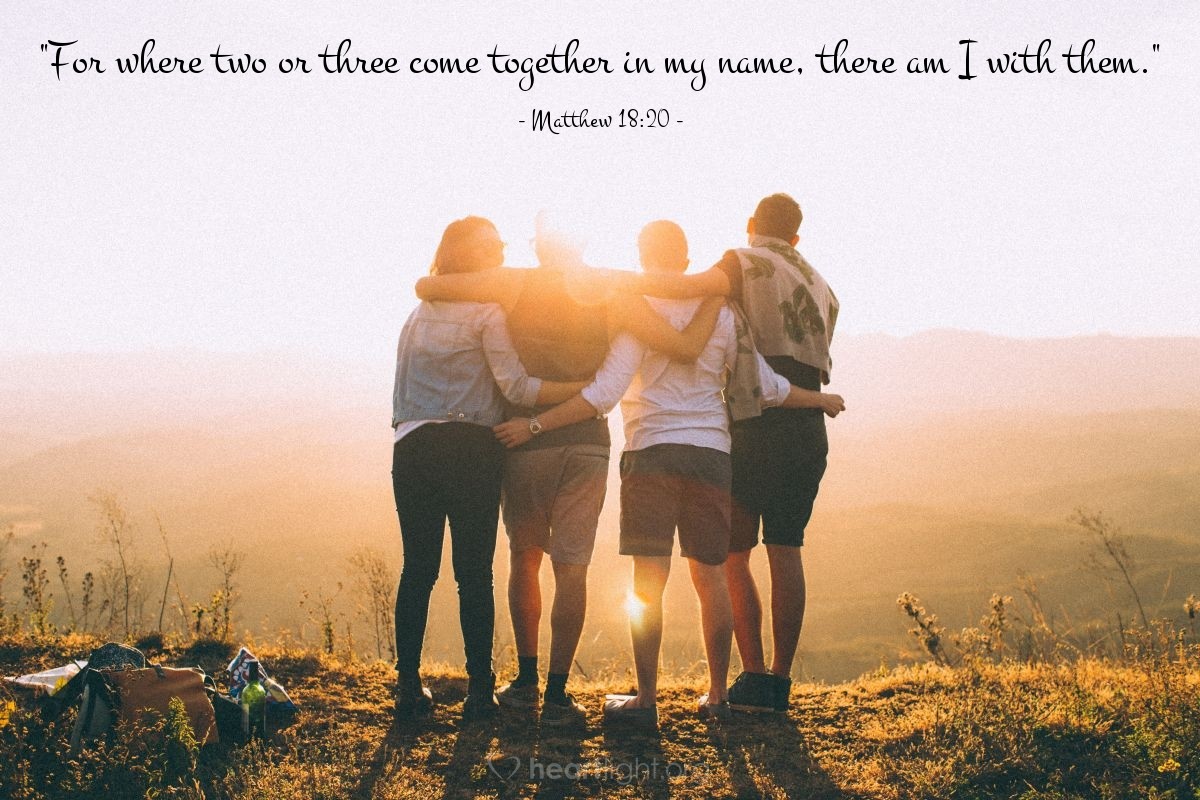 Similar to yesterday with Jeremiah 29.11, the principle in play is a great one, but misusing and confusing the particular Scripture is a problem.
Matthew 18.20 says this:
"For where two or three are assembled in my name, I am there among them."
As with yesterday's verse Matthew 18.20 begins with for…which we now know is a giveaway. Lets look at the passage:
"If your brother sins, go and show him his fault when the two of you are alone. If he listens to you, you have regained your brother. But if he does not listen, take one or two others with you, so that at the testimony of two or three witnesses every matter may be established. If he refuses to listen to them, tell it to the church. If he refuses to listen to the church, treat him like a Gentile or a tax collector.

"I tell you the truth, whatever you bind on earth will have been bound in heaven, and whatever you release on earth will have been released in heaven. Again, I tell you the truth, if two of you on earth agree about whatever you ask, my Father in heaven will do it for you. For where two or three are assembled in my name, I am there among them."

(Matthew 18.15-20)
This passage, then, is actually about church discipline. It's about what to do when a fellow believer sins against you (v.15). It's about taking others with you to make the case, seeking church-wide support (vv.16-17). It's about the role the church plays on earth now in the bodily absence of the Lord Jesus (v.18). It's about the truth that the church is His representative to a fallen and broken world and that we ought to be interacting with people as He would (vv.19-20). It's not about inviting an Omnipresent God into your specific location (Acts 7.48, cf. Psalm 139.7). He is, of course, already with you. 
Really then, when Matthew 18.20 is misused and confused it's usually people trying to invoke Scripture to show that God is with them. Ironically, the truths of Matthew 18.20, when unpacked, actually do show this, but just not in the way that quoting it in isolation claims. 
Matthew 18.20 is a wonderful truth about the role that the church has in the world today. Yes, the Spirit of the Lord Jesus is with us, but that is true whether there are two, three, or a thousand believers present. Even if you are alone, the Lord is with you, you don't need a couple of other people to enter into God's presence. Jesus' death on the cross and His resurrection from the grave have permanently opened the presence of God to you through Him (John 14.6, Hebrews 4).